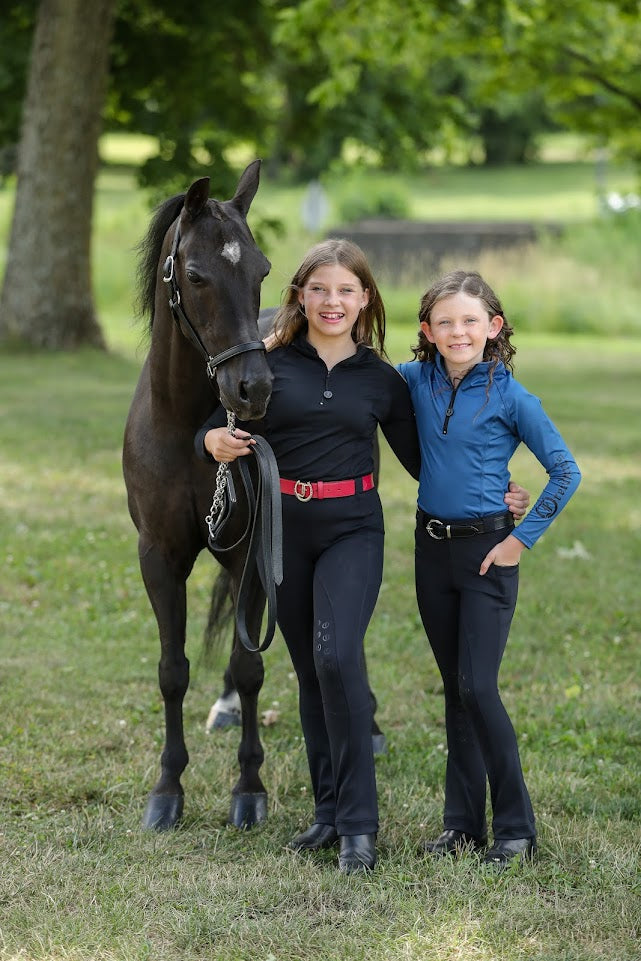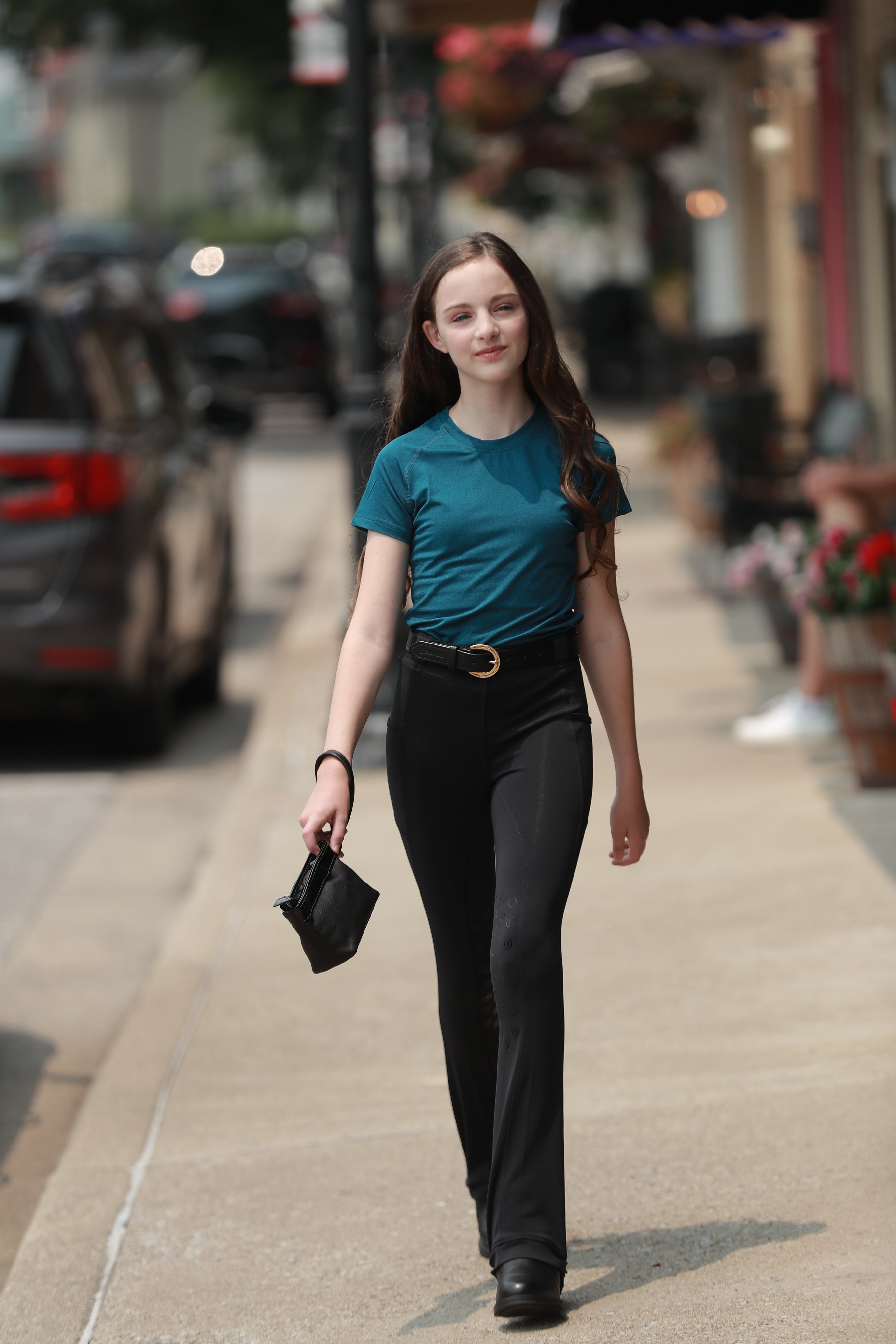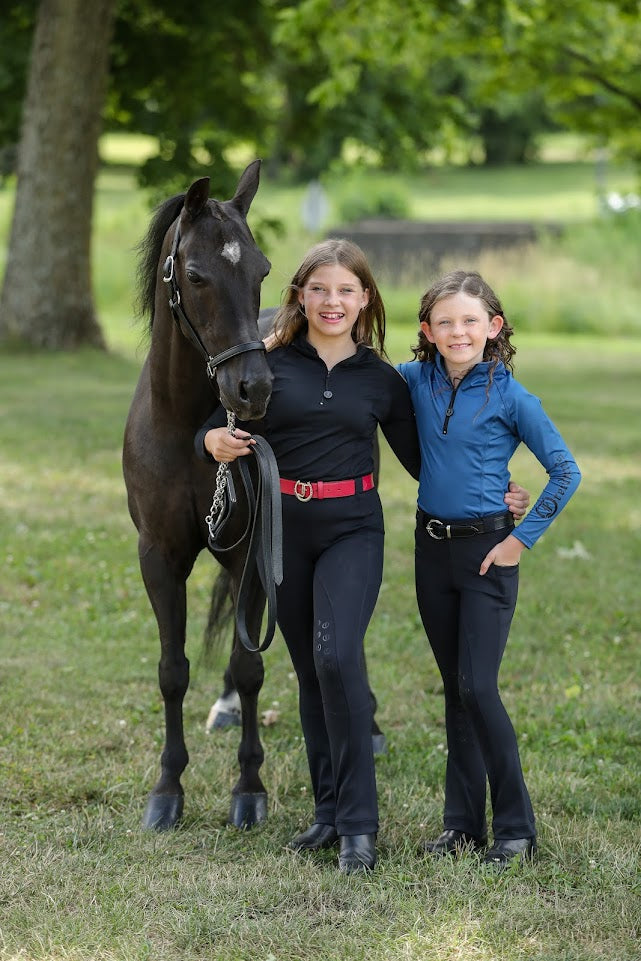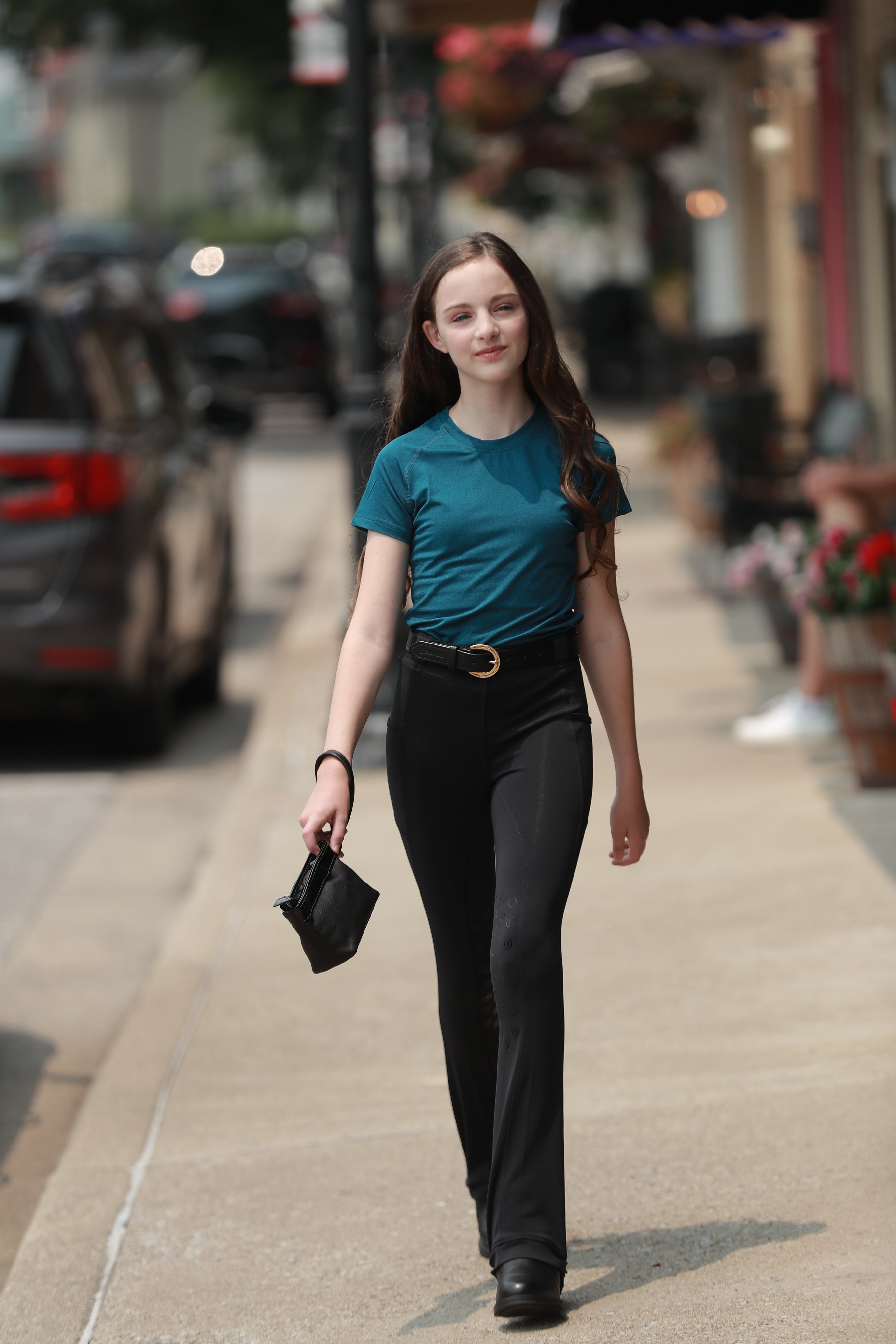 TLJ Kids' Jods - Black
Sale price

$99.00

Regular price
What Makes These Kids' Jods So Great:
After two and a half years of development and testing, we are proud to present the best fitting kids jodhpur on the market. 
Wear them to ride, practice and play.
Tous les Jours (Everyday!)
Product Details: 
•

 
Full 
c
ompression fabric keeps your muscles warm and activated 
- Boot cut promotes visually slender long leg lines
•

 
Smoothing 
four
-way stretch fabric
 for 
comfort
•

 
Wide waistband and belt loops
•

 
Silicone knee patch for grip
•

 
Hard wearing moisture wicking 
f
a
bric
•

 
Reinforced 
t
ie down buttons
Design Note: TLJ Kids' Jods are boot cut with tie downs. They are designed to be worn to the floor unlike classic Kentucky Jodhpurs. They are not designed to be worn long past the heel.
This material is specially designed for saddle seat riding. Pilling will occur on the seat of these jodhpurs if you ride in a suede or rough out seat saddle. This includes all suede seat and western suede seat saddles.
Care:
-Wash inside out
-Cold water
-Hang to dry
-Do not bleach
-Do not iron 
-Some Pilling may occur 
Note from David: Although we state in our care instructions "Hang to dry", my wife Nicole who has been a big part of the testing of the Jods has washed and dried her test pairs more times than I can count! They always come out excellent from the dryer. As a "horsewomen" she feels if you can't wash/dry anything then it's a useless item. I tend to agree, so have at the washer and dryer, convenience no charge!  
SIZE
WAIST
INSEAM
AGE?
COMPARABLE
SIZE?
X Small - Regular
20"
21.5"
6-8
X Small - Long
20"
23"
6-8
Small - Regular
22"
23"
8-10
Small - Long
22"
24.5"
8-10
Medium - Regular
24"
24.5"
10-12
Medium - Long
24"
26.5"
10-12
Large - Regular
26"
26.5"
12-14
Large - Long
26"
28"
12-14
Ask the Experts Why They Choose Freedman's

Kristen Cater, Cater Stables
"The new World Cup HP is state of the art equipment. Freedman's has yet again taken saddle and rider fit and set up to a whole new level. The new bar system allows for more precise adjustments to insure your rider is in the most optimal position for them and their horse. All while maintaining the quality leather, seat and grip of the World Cup Super Grip. The stirrup bar adjustments are easy to use and the saddle maintains the same great look as before. We love it!"

Jimmy Stachowski, Stachowski Farms
"Freedman's new World Cup HP Saddle is a level above anything else out there. The adjustable bar system is new and has five positions that allow us to put our riders in the leg position that best suits them and their horse. It's the same great saddle, but with improved function and fit for the rider."

Merin Maggi, Maggi Stables
"I switched to the Hunter SG Saddle and have had amazing results. My old saddle, which was designed for jumping, was a little more slick and not as much comfort and stability. The difference I notice in the Freedman's, is you have shoulder freedom, you have comfort, a deeper seat, and a slightly larger saddle…you get a better performance from the horse and the rider."