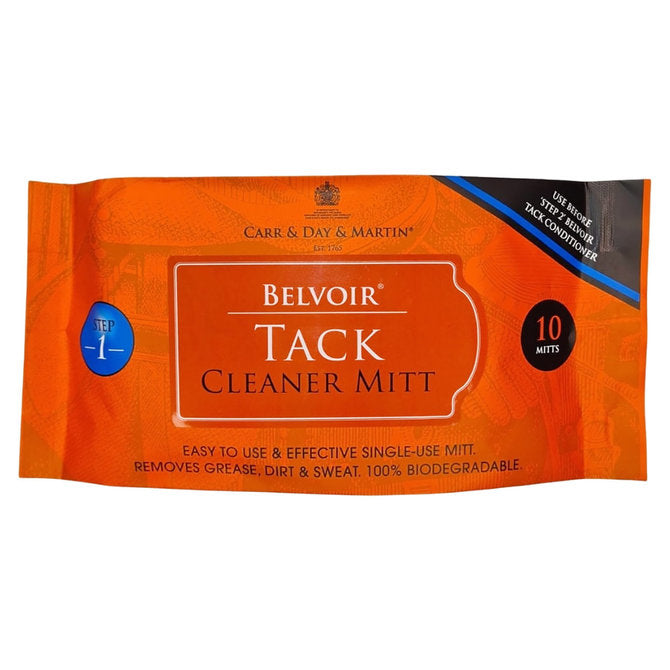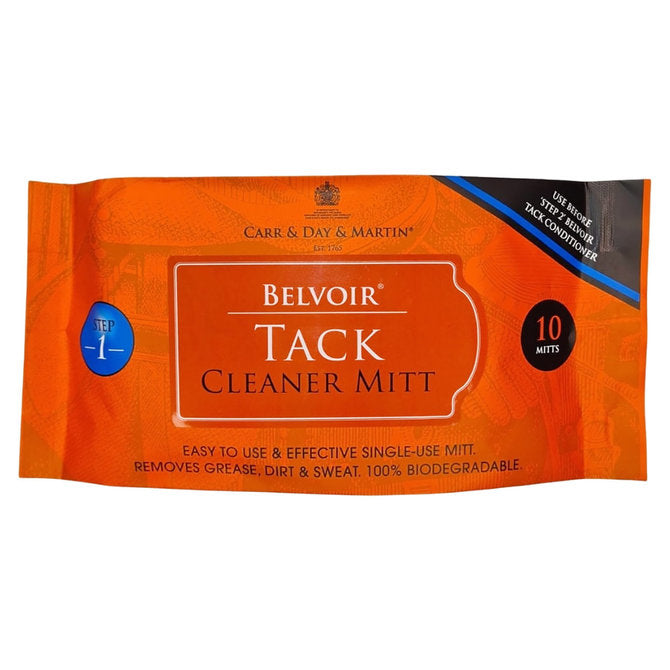 Carr & Day & Martin Horse Belvoir Tack Cleaner Mitt 10 Count
Sale price

$16.00

Regular price
Each pack contains 10 x sustainable, biodegradable bamboo derived Mitts. Belvoir Tack Cleaner Mitts are designed for you to use like a glove resulting in the ultimate easy and effective tack cleaning experience. Clean both sides of your leather in one easy wipe faster and make cleaning those hard-to-reach areas and intricate details of tack much easier. Includes a turning tab to easily use both sides and can also be used inside out especially for very dirty tack for extra cleaning power, resulting in a deeper clean with a fresh wipe each time versus with a sponge.
Quick and convenient, no water required – on the go essential to ensure your leather is ready to shine at any event. Additionally they can be used for wiping down riding boots, bits and bridles. Rinse the Mitt and wipe down the tack room after you're finished.
For best results use Belvoir Step 2 Tack Conditioning Spray to soften, preserve and shine your leather.
Suitable for use on synthetic leather.
Application
Wipe over leather items to remove grease and dirt. No scrubbing necessary.
Care Note
Can be used on synthetic leather
Not suitable for aniline, untreated leather, suede or nubuck
Always test on a hidden area before use, results are immediate
Size: 10 Mitts
Ask the Experts Why They Choose Freedman's

Kristen Cater, Cater Stables
"The new World Cup HP is state of the art equipment. Freedman's has yet again taken saddle and rider fit and set up to a whole new level. The new bar system allows for more precise adjustments to insure your rider is in the most optimal position for them and their horse. All while maintaining the quality leather, seat and grip of the World Cup Super Grip. The stirrup bar adjustments are easy to use and the saddle maintains the same great look as before. We love it!"

Jimmy Stachowski, Stachowski Farms
"Freedman's new World Cup HP Saddle is a level above anything else out there. The adjustable bar system is new and has five positions that allow us to put our riders in the leg position that best suits them and their horse. It's the same great saddle, but with improved function and fit for the rider."

Merin Maggi, Maggi Stables
"I switched to the Hunter SG Saddle and have had amazing results. My old saddle, which was designed for jumping, was a little more slick and not as much comfort and stability. The difference I notice in the Freedman's, is you have shoulder freedom, you have comfort, a deeper seat, and a slightly larger saddle…you get a better performance from the horse and the rider."