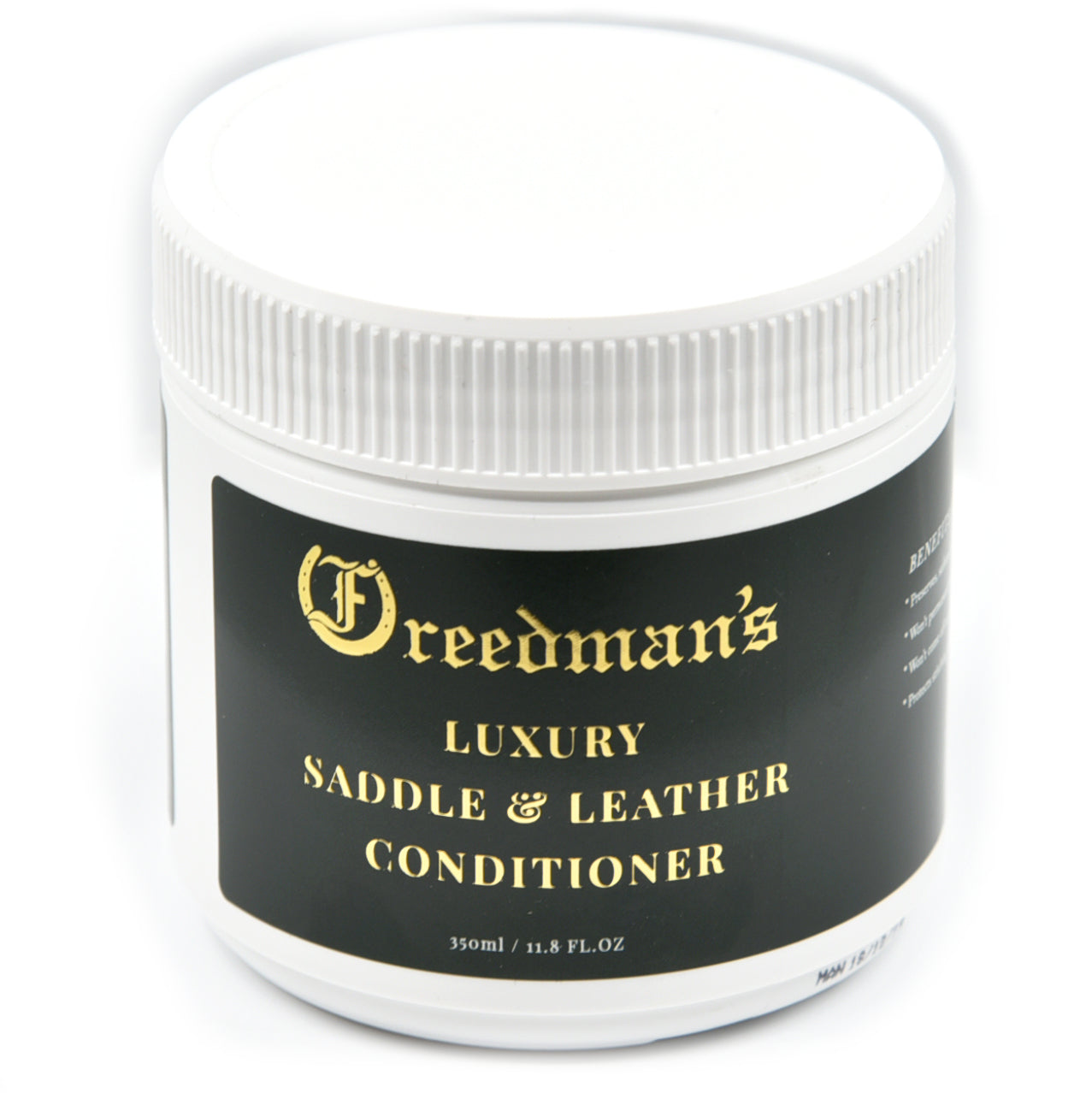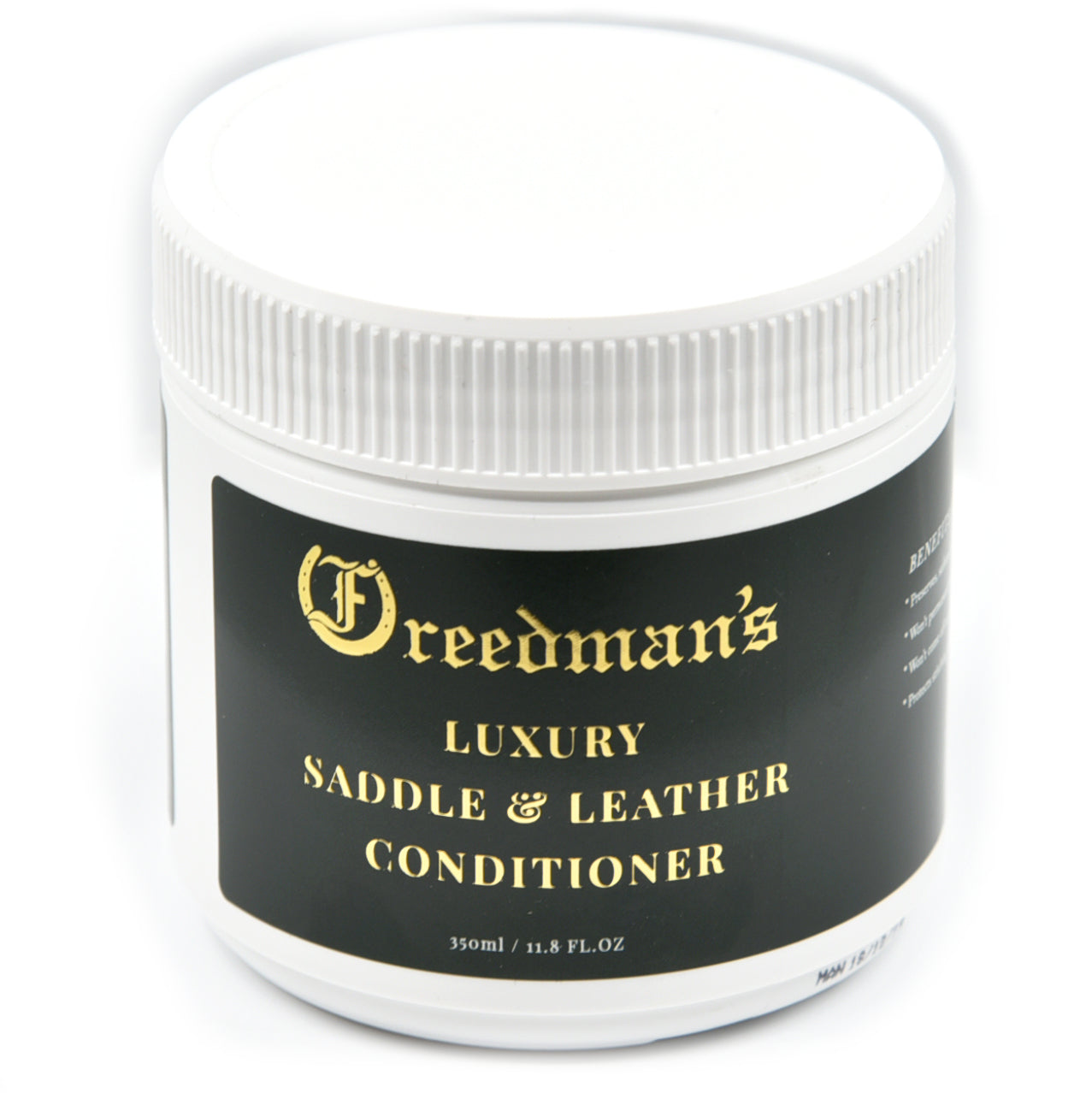 Freedman's Luxury Saddle & Leather Conditioner
Sale price

$20.00

Regular price

What Makes This Conditioner So Great:
-Specially designed for use on Freedman saddles
-Preserves, softens, protects and repels water 
-Won't permanently darken leather
-Won't rub off on your clothes
-Protects stitching and easy to apply 
Product Description:
Freedman's Luxury Saddle & Leather Conditioner is formulated for preserving, softening and protecting leather while maintaining the grip feel for your saddle. For use on leather saddles, horse tack and accessories. 350 ml/11.8 fl. oz.
Produced by Oakwood for Freedman's. Contains Australian ingredients including lanolin, beeswax, tea tree and eucalyptus oil.
"The leather conditioner is the key to keeping your tack feeling restored and nourished for every use!" - Sarah Barclay 
"The freedman Luxury saddle conditioner is a great product for all leather, I have used it on everything from saddles and bridles to boots and belts. I especially like to use it before putting a rider in the show ring, it adds a grippy and secure feeling that I think ensures extra confidence in the ring!" - Alyssa Wick
"The Luxury Saddle and Leather Conditioner is a MUST HAVE for every barn.  This multiuse product brings life back to overused work tack without leaving a greasy film, maintains the grip that we all love about our Freedman's saddles, and repels water from handbags without compromising the color.  Keep your Freedman's leather goods feeling as luxurious as when you first bought them with this high quality conditioner. " - Kayleigh Meyer
Ask the Experts Why They Choose Freedman's

Kristen Cater, Cater Stables
"The new World Cup HP is state of the art equipment. Freedman's has yet again taken saddle and rider fit and set up to a whole new level. The new bar system allows for more precise adjustments to insure your rider is in the most optimal position for them and their horse. All while maintaining the quality leather, seat and grip of the World Cup Super Grip. The stirrup bar adjustments are easy to use and the saddle maintains the same great look as before. We love it!"

Jimmy Stachowski, Stachowski Farms
"Freedman's new World Cup HP Saddle is a level above anything else out there. The adjustable bar system is new and has five positions that allow us to put our riders in the leg position that best suits them and their horse. It's the same great saddle, but with improved function and fit for the rider."

Merin Maggi, Maggi Stables
"I switched to the Hunter SG Saddle and have had amazing results. My old saddle, which was designed for jumping, was a little more slick and not as much comfort and stability. The difference I notice in the Freedman's, is you have shoulder freedom, you have comfort, a deeper seat, and a slightly larger saddle…you get a better performance from the horse and the rider."